Ds Malapo fire services is a young and dynamic fire company, has firmly entrenched itself in the Fire Protection Industry. The company has grown into a vibrant and successful business enjoying support from a diverse client base, ranging from small business owners to property portfolio management firms. INTASAFETY has proved to be a refreshing and reliable source of information, fire safety products, technical expertise and services.
We directly imports a wide range of firefighting equipment. All this equipment is manufactured according to the relevant and highest SABS standards required. Our clients are therefore ensured of the highest manufacturing quality and standard, as well as the best value for money.
We also offers a full maintenance service to all clients possessing handheld fire equipment. Our professional and competent workmanship, coupled with an honest and trustworthy staff, makes us a leading brand in a highly competitive market. We are unique in that we have a solid administrative infrastructure enabling us to provide service to our clients at an impressive and competitive rate. Our highly skilled service technicians are accredited by the SAQCC (The South African Qualification & Certification Committee).
The correct service and maintenance of your fire equipment is of vital importance. If fire should threaten, you need to be comfortable that your equipment will work as intended. Fire equipment that is not correctly maintained may not work for you when you need it most.
We understand that fire safety regulations are highly regulated and technical, proving sometimes to be a difficult area to manage. Your fire equipment service provider should be proficient and knowledgeable in fire safety rules and regulations, rendering you reliable, professional advice and guaranteeing your absolute safety and compliance.
We also understand the value of your fire equipment. The expenses involved with the installation, maintenance and replacement of your equipment can be daunting. You need to know that you are being guided correctly by your fire equipment service provider and are being charged at a reasonable and honest rate.
Be aware of the importance of having your fire equipment serviced by a reputable and honest organization. There are many fly by nights who will service your equipment at cheaper rates promising you compliance. These service providers are not certified maintainers of fire equipment. The pennies saved on your annual service could be your most expensive decision ever made. Make sure that your Fire Equipment Service Provider is accredited by the SAQCC and SANAS. All technicians should have membership cards with valid dates proving their legitimate right and responsibility to service your equipment.
We are trained experts in the installation, maintenance and compliance of Fire Equipment. Our workmanship and manufactured products are of the highest standards, ensuring that your equipment works when needed. Our goal is to make the installation and maintenance of your fire equipment an easy task to manage and your comfort that your fire equipment is taken care of. We are fully accredited by the SAQCC and SANAS making us a preferred supplier and maintainer of Fire Equipment.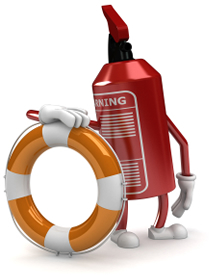 As an added value for our clients, we offer the following engineering services:
Planned Maintenance
Drawing up and implementing Planned Maintenance Systems into operation.
Periodic inspections of Planned Maintenance, in order to ascertain that the work is being carried out as specified.
Providing CAD drawings for all work handled by us.
Carrying out inspections of all the above types of work and providing detailed reports.
How to Use a Portable Fire Extinguisher Training Video